This summer has been a busy one for us, as we started out in Utah in May, and made our way through Colorado and Wyoming as the summer progressed. We decided to spend the last month of the summer exploring Glacier National Park, and we headed up north into the wilds of Montana.
Glacier National Park has always beckoned to me with it's pristine alpine lakes and grand glacial valleys. Back in my days at college, when I was a geology major, I dreamed of what it would be like to see a glacier in person, as textbook pictures don't do justice.
Back in 2014, my father and I took a trip up to Glacier National Park. We didn't plan well, and only gave ourselves 4 days to explore and hike around. Our whole trip was plagued by 4 days of constant rain and clouds. To say we were disappointed was an understatement, but that's how Mother Nature plays sometimes. I did the best I could to photograph with what I could.
David had also taken a trip out later in that same summer in 2014, and instead of inclement weather, he had to to deal with wildfires and smoke. Again, not quite the nicest conditions.
So, as we planned for the end of this summer, and where we would like to go, we both decided that it was time to explore this park again and hopefully have better conditions this time around!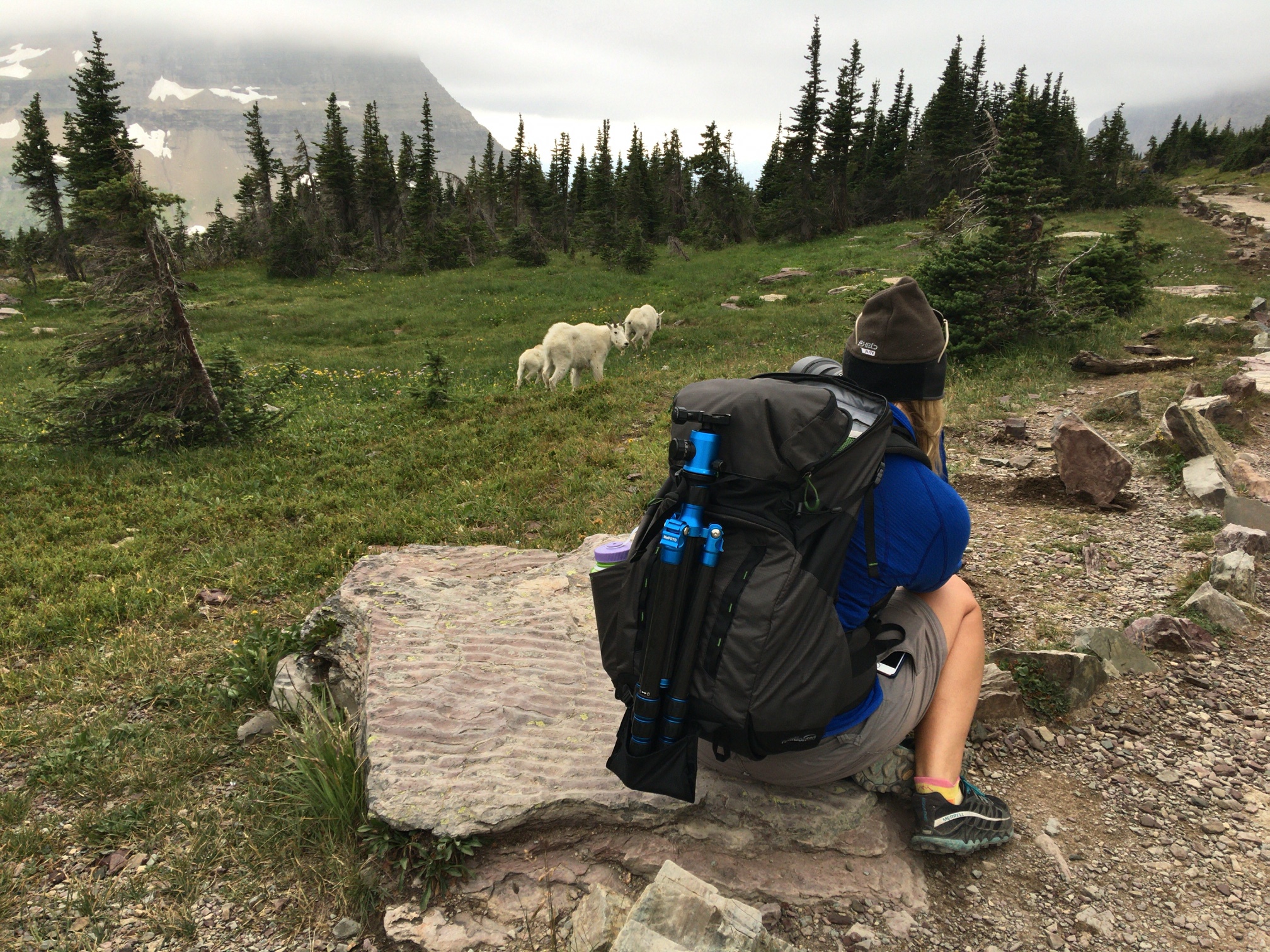 One thing that we both took away from our previous experiences, was that this was no ordinary national park. Glacier's location and size make it a challenging place to explore. There are so many things to see and hike, and when looking at the guide books and maps, it's easy to get overwhelmed by the vastness and how far apart things are from each other. We found it best to divide the park up into sections, and to research each section for spots and sights that we wanted to photograph and see.
The first thing that we had to figure out was how long we wanted to stay. We knew that we wanted to take our time exploring each area, and give ourselves plenty of time in case we lost some days to weather.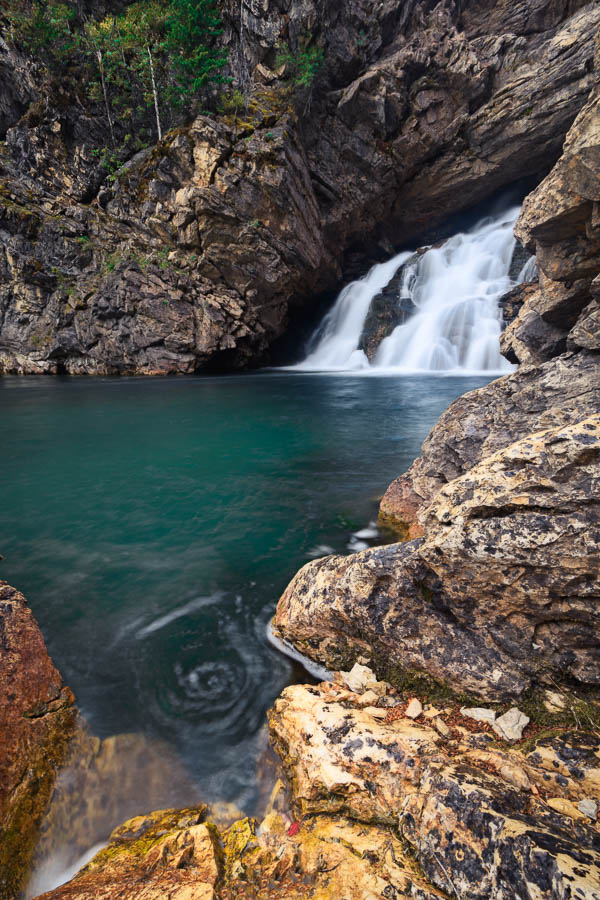 Next, we had to figure out where we were going to stay. There is no free camping inside the park, and you can only camp at the designated campgrounds when inside National Park boundaries. This meant being at the campgrounds early in the mornings on the days that we were switching sites, so we could grab a vacated site from other campers leaving. I would compare this process to waiting in line for a rock concert. The earlier you can get to the campsites, the better. The campsites that are not reserved, are first come first serve. The benefit to this process and staying within the park boundaries at the campgrounds, is that it made it very easy to grab our cameras and chase the light and weather around us if something looked like it was going to make an interesting scene.
The west side of the park was definitely more busy with tourists than the east side. We spent a few days in this area, but did not camp in the park. Instead, we found a nice spot to boondock for a few days along a river a few miles outside the park. This spot had a cell signal, so we were able to research the next few weeks as to where we wanted to go before diving into the east side of the park. We explored a few trails on the west side, including Trail of the Cedars, and the the trail to Avalanche Lake. Both are pretty places, with the potential for some nice shots, but due to the weather, we were mostly explorers instead of photographers those days. With the Going to the Sun road open and running across the park, we did spend some time exploring up near Logan Pass. Mountain goats are my favorite wild animal to photograph, so we spent a lot of time hiking and scouting for them, as this was the one of the best places in the park to see them. Logan Pass was definitely one of the busiest places in the park, with tons of crowds. The key here was getting here early or later in the day to find parking to hike around. After spending a few days here, we headed over to the east side of the park.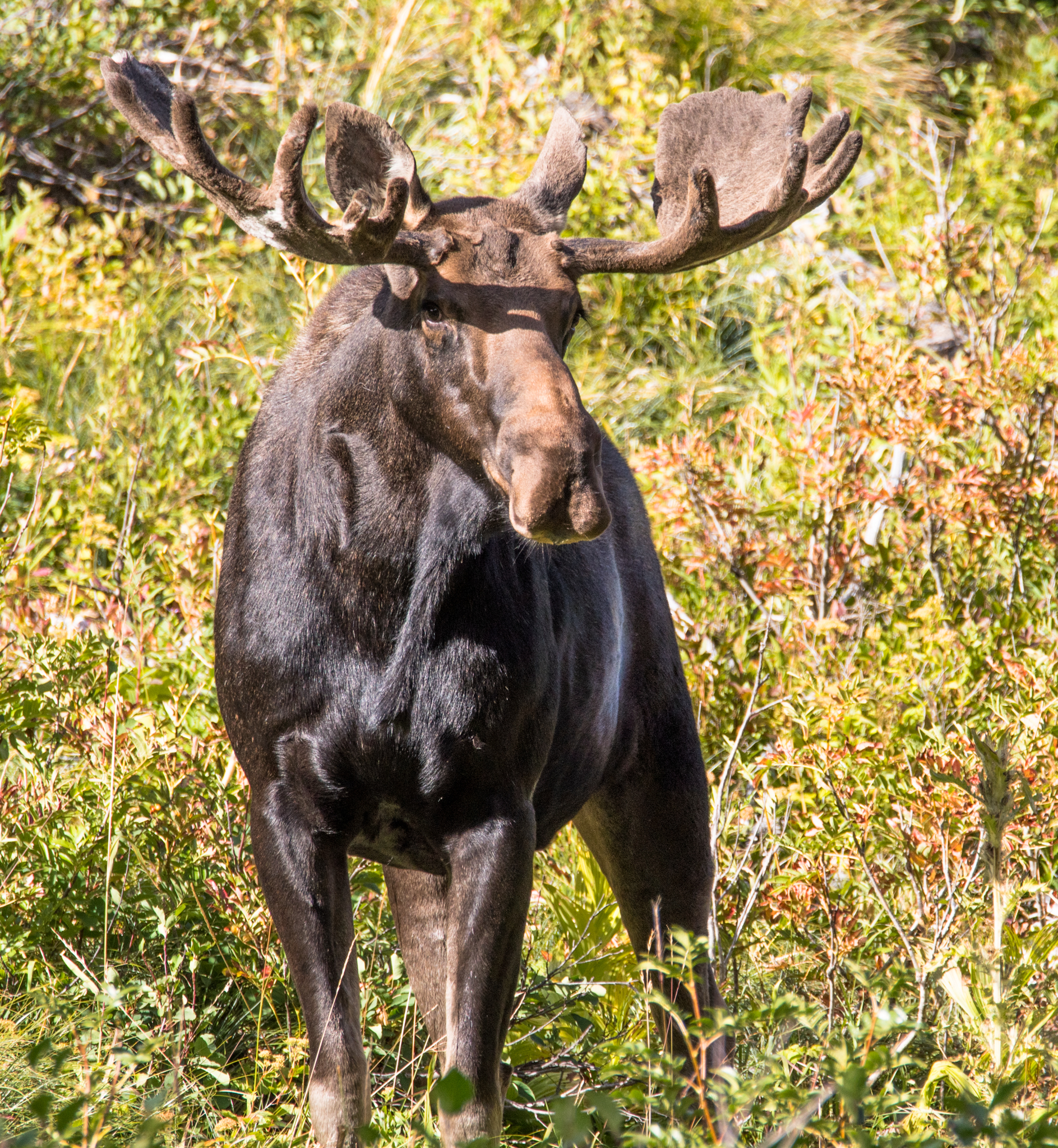 We were very excited to spend time on the east side of the park, and this is where we camped in three different locations. The first location we camped in was Two Medicine. This was a nice quiet location, with access to a few different trails, and very quick access to Two Medicine Lake with beautiful views of Sinopah Mountain. We spent quite a few mornings and evenings here waiting on sunset and sunrise, and got a few nice shots. We hiked up to Upper Two Medicine Lake, and explored the Twin Falls on the way. This was the trail where we had our first large animal encounter. No, it wasn't a bear, but instead a disgruntled moose that wanted to make sure we knew who the king of the forest was…him! We had stopped to admire him from a very far distance, and watching his behavior, he didn't seem agitated. I shot a few images before we were going to move on, and then, out of nowhere, this large beast started his charge down the hill like a freight train, and we were the target. Okay, I'll admit it. I ran like a little girl for the first tree I could find, and David stood there trying to talk the moose down from his current decision. He didn't come directly at us, but instead stayed about 15 feet in front, and pranced, bucked and snorted and paraded around in front of us throwing his antlers. I'm sure he was thinking, "Ha! That's right! This is my area!" We wasted no time continuing down the trail after that. We talked about our reactions, (how I ran like the little girl, and David was much braver, lol) and that led us to a learning moment. How do you react to a charging moose? Well, we learned that you do in fact run, and the goal is to put a large object between you and the moose. It's not a predator, so running will not encourage the chase. We came away from that with a story to tell, and we learned something. They say the most dangerous animal in the woods is a bull moose during mating season. Good to know!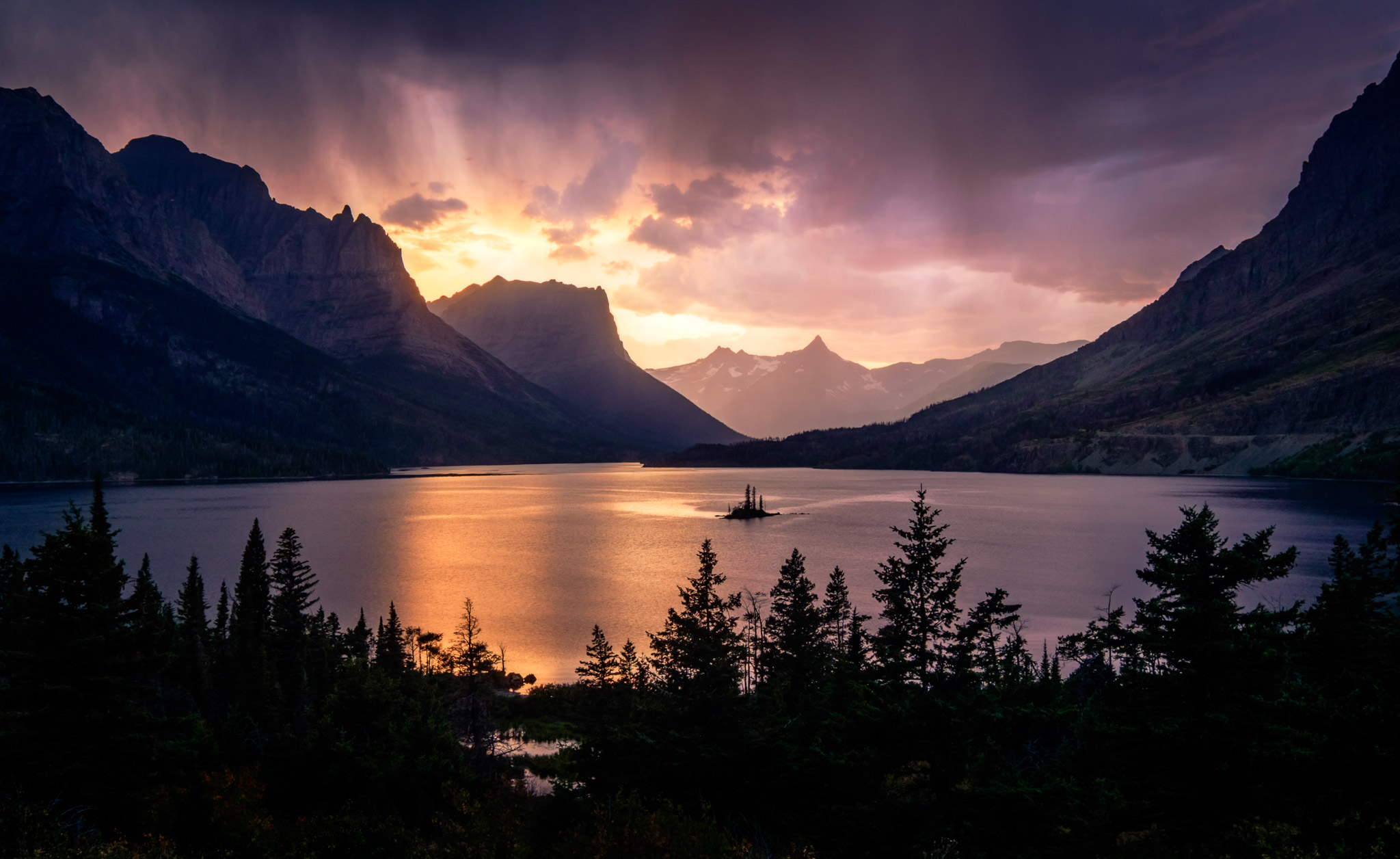 We then moved on to the area around St. Mary, and camped at the Rising Sun campground. This area was pretty heavily damaged from a forest fire last year,, but there was still beauty around nonetheless. We spent some time photographing Wild Goose Island in different lighting conditions, and we were lucky enough to capture a storm rolling in once evening around sunset. Because we were camped nearby, we were able to grab our cameras and go capture it. This area is also where we saw the most grizzly bears, as it was the time of year where they were gorging on berries and other foods to prepare for hibernation. We were lucky enough to see quite a few of them in this area, and I was able to capture a few images.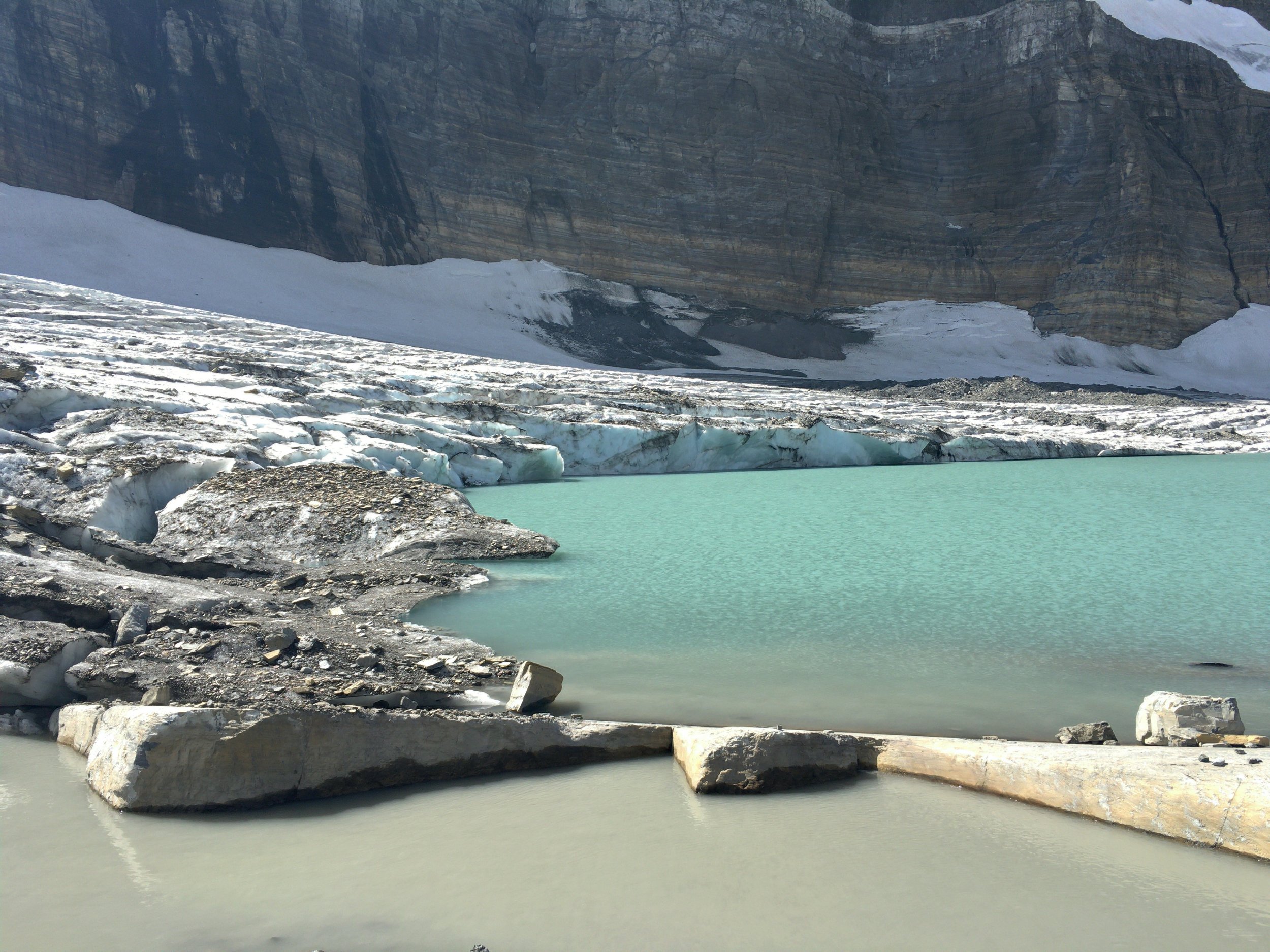 The last area were explored was up at Many Glacier. This area is what most people picture in their mind when they think of Glacier National park. There are grand mountain views all around, and you can spot glaciers in action on their flanks. We stayed at the Many Glacier Campground, and were able to get a really nice spot where we could sit outside in the evenings, and watch the mountain goats on the flanks of the mountain behind us. We hiked the Grinnell Glacier Trail, to see and touch a glacier. It was quite a hike, but the end result was worth it. With current climate changes, the glaciers will not be around much longer in the park, so we were glad we were able to take in this great experience before they disappear. The weather here was a bit dicey, alternating from sunshine, to clouds, to snow showers before we left. We were able to capture some nice images from Swiftcurrent Lake, and the surrounding area. Some of the trails we wanted to explore were closed due to bear activity. Although it was disappointing, it was nice to see they kept the safety of the visitors, along with the safety of the bears in mind when they made the decision to close a trail. No one likes a bear encounter that goes south, especially the bear. When they are sprayed with bear spray, it takes weeks for them to recover from the spray. It messes with their vision and scent ability, which are their two most important tools.
We didn't want to leave, as we felt like we were just getting a handle on the park. It took us a bit to learn the park, and certain areas due to the vastness. It's definitely a challenging park to hike in, given thewildlife and how long and strenuous most hikes are. We didn't get a chance to do as much hiking as we had planned due to weather and closed trails, but we have a list of things we would like to try on our future trips here. All and all, it was a great trip, and a good scouting trip for possible future endeavors. We are now headed into our favorite season of the year, and we are off to southern Colorado for our Fall Colors workshop. It looks to be a good year, as Mother Nature is already putting on a nice display! See you on the road!