RV's do not come from the factory intended for living in them full-time, over the past year I have made a number of upgrades that make living out of our RV more pleasant.
Hitch level
The Hopkins Level has made life much easier when setting the trailer up, once parked I turn the dial until the bubble is level, a number is indicated along with an arrow to tell you how many inches that side needs to go up. I quickly know how many blocks to put under the tires. There is also a front to back level for quick leveling with the jack.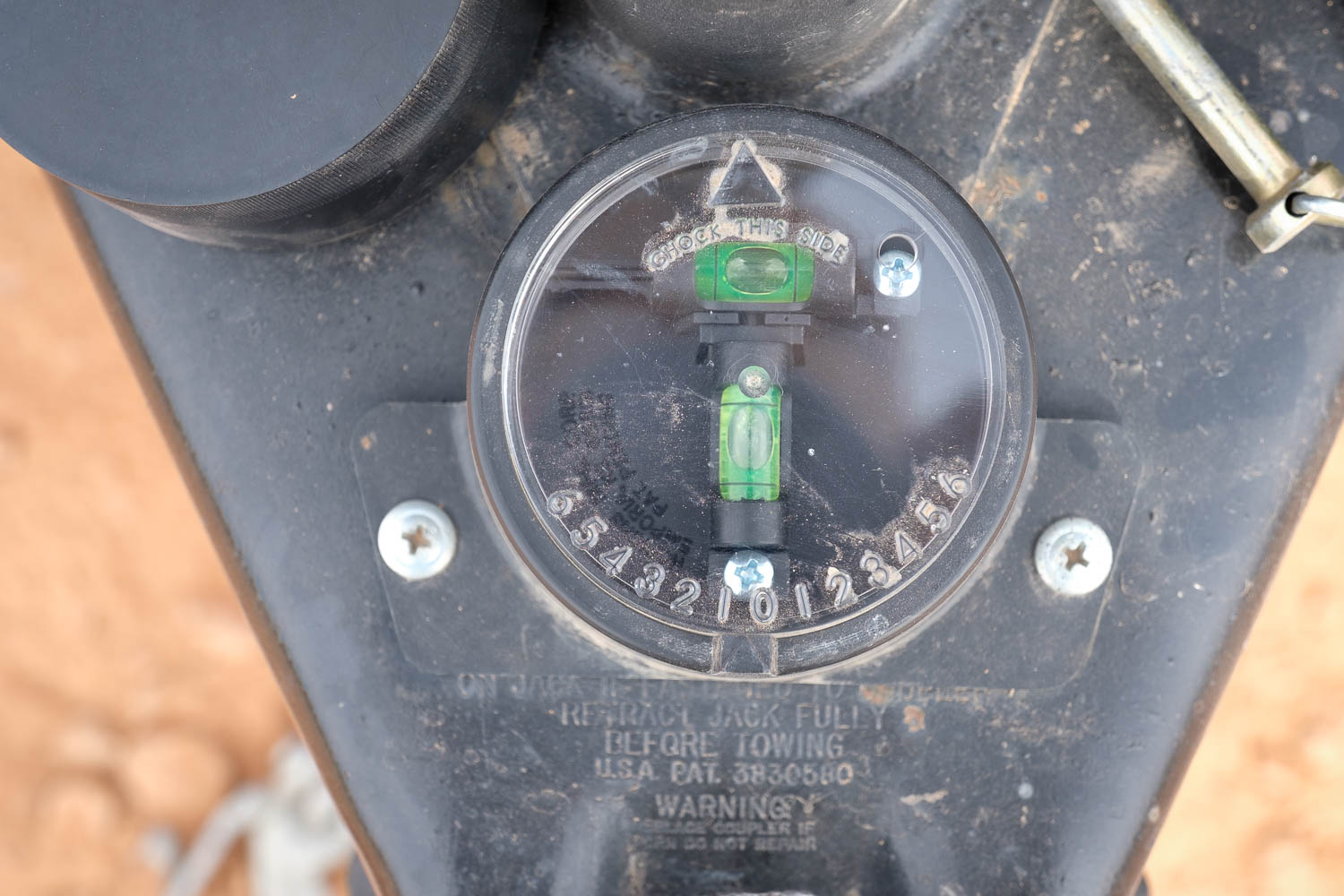 Solar panels
We do a lot of boondocking; therefore, I knew we would need a lot of solar power. I installed three 100w panels on the roof using wood screws and Dicor Lap Sealant to ensure no leaks. I did not make them tilting at this point because we never park in one particular direction, so we need a four-way tilting rig, which I hope to build in the future. The small panel on the AC unit came with trailer and is a 40w panel. For the days with little, or low angled sun I also have a 100w portable panel that really helps to boost our output.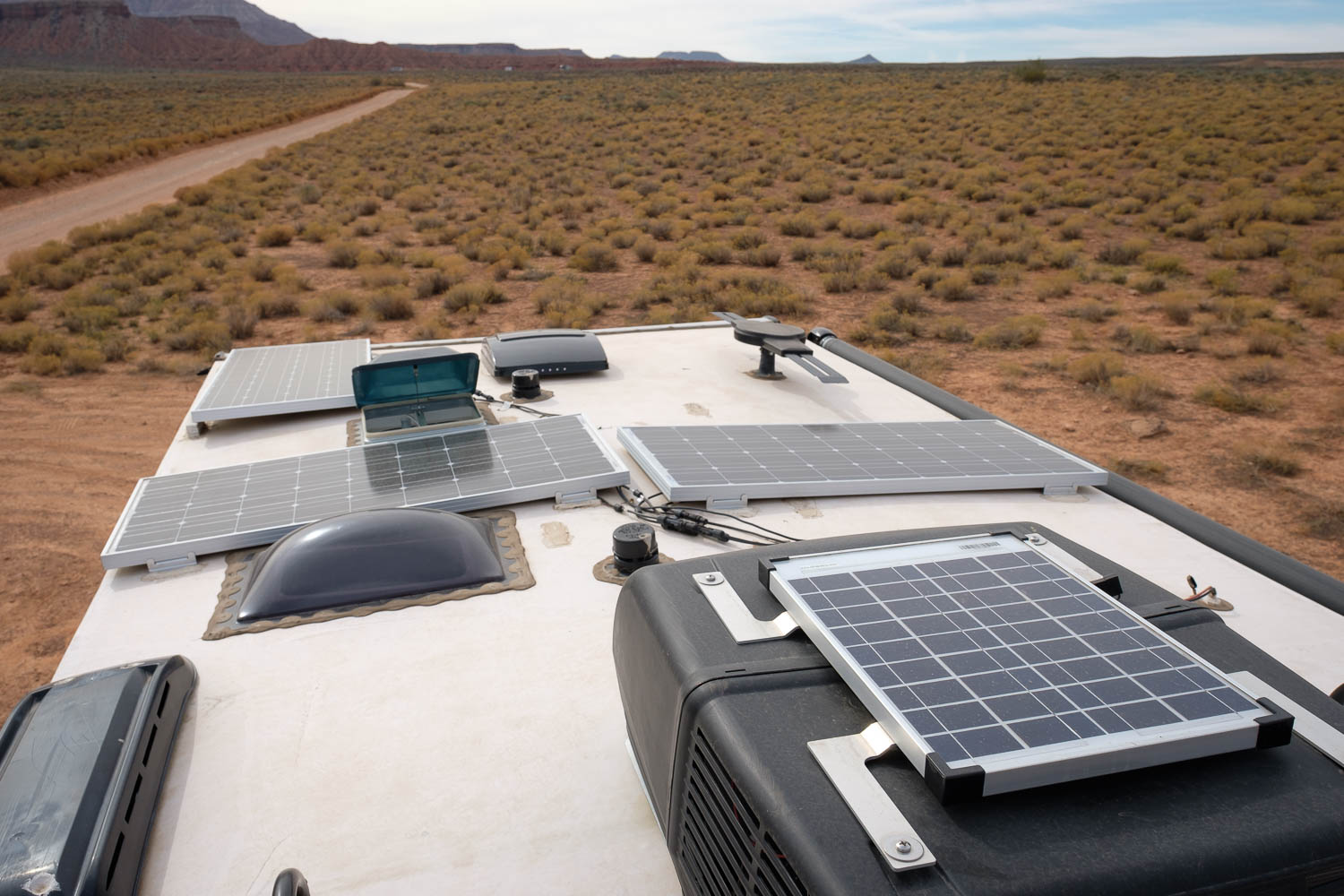 Solar Controller
The Nash came with a small solar controller only meant for the 40w panel. When I upgraded the solar, I went on the hunt for a quality 4 stage controller that would not break the bank. I finally settled on this PWM 30A controller from Renogy, which has been replaced by the Renogy Adventurer 30A . The controller has worked perfectly for 300w of solar and could handle even more. It is customizable to set your charge parameters and set voltages that will return it to the Bulk stage if you are using too much power. Thankfully the Nash was pre-wired for a larger solar system with 10 awg wires coming from the panels, and 8 awg going to the batteries. It is not the most efficient design possible with the solar controller located near the door rather than next to the batteries, but it still works well.
Golf Cart Batteries
With 12v deep cycle batteries, we were constantly in conservation mode, every morning the heater would pull the batteries down to 50% even when conserving as much as possible each night. Finally, I upgraded to the Costco GC2 golf cart batteries. I debated if I should spend the extra money on Trojan T-105's, and ultimately decided they were not worth double the price. The Costco batteries are Interstate branded and only cost $83 each. We now have plenty of power to run whatever lights we need at night and not worry about running the heater in the morning.
Inverter
Our primary use of an inverter is to charge our laptops during the day. I installed a 1000w pure sine inverter near the batteries and ran wiring to the back of the rig where we work. I did not want to wire the inverter to the outlets because it is over my electrical skill level and did not want to pay for this, so we have one outlet with a power strip specifically for the inverter.
Shower Head
I installed an Oxygenics shower head, which is a common upgrade in the RV world. This shower head saves water by aerating the water slightly and has a valve to turn the water on/off.
Screen Door Handle
The screen door did not come with a handle, and I found it a bit hard to close at times, so I added a cheap metal handle I found at a hardware store. Since then I have seen Camco offers an even bigger handle.
Fire Extinguisher
This one is not very exciting; I will admit that, but it is important. Most RV's come with an automotive style fire extinguisher, this is not suitable for living in an RV. These extinguishers are type BC, for home applications you need ABC which will put out a broad range of fires. A is for paper, wood, textiles, and plastics, sounds like an RV to me! After much research, I picked up this First Alert Fire Extinguisher because it is built out of metal components rather than plastic which tends to fail when you need it the most.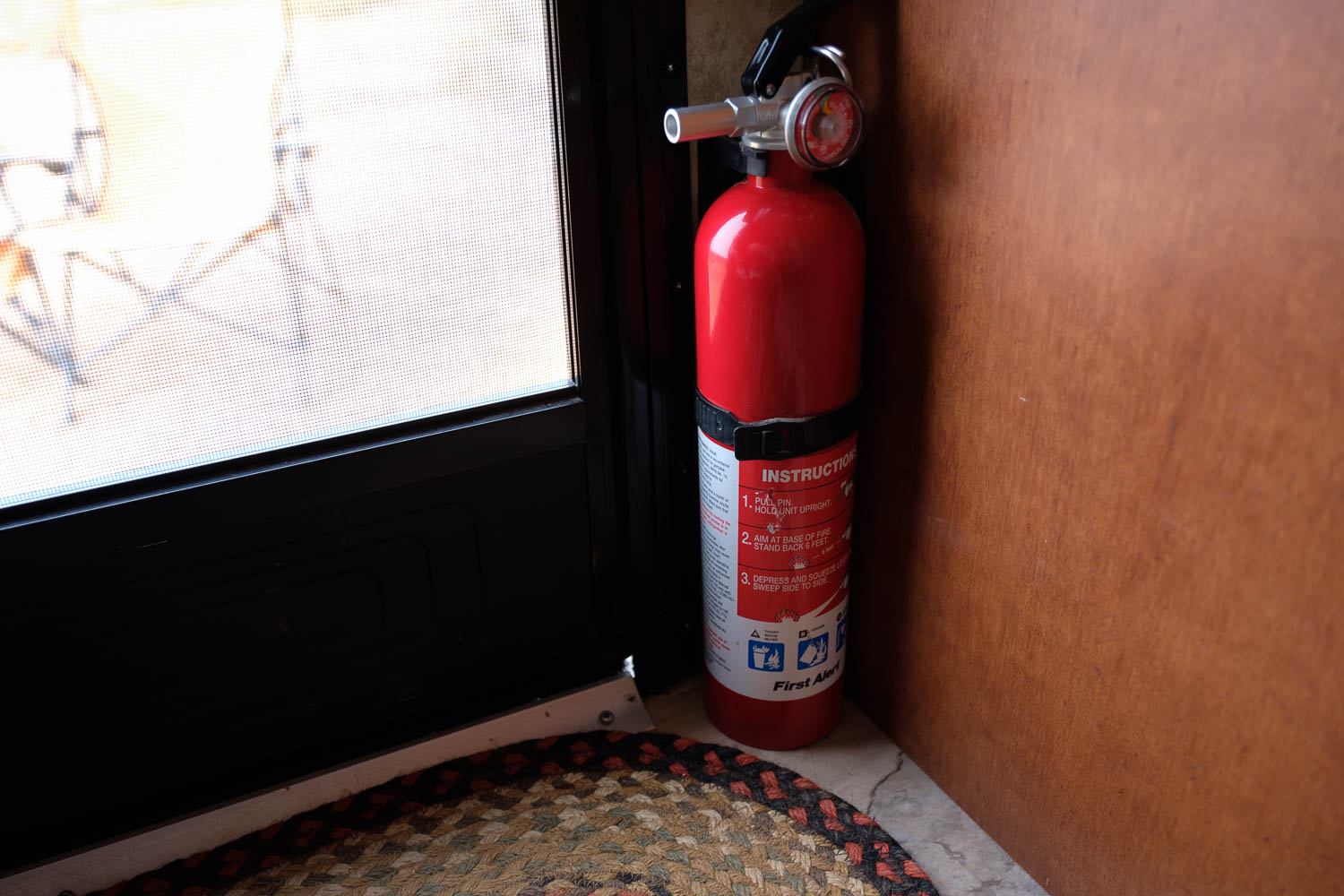 Vent Fan
The Nash did not come with a vent fan for the living area, so I did my research and found the Maxxair MaxxFan Deluxe. To be the best option for me, I needed something that was temperature controlled so it would come on automatically during the day if we were not around, and turn off when it gets too cold. This fan has been great, very reliable and not noisy. My only gripe is when the Auto mode is on a bright green light illuminates the room, since the vent is directly above our bed this was rather annoying at night. I taped over what I could to lessen the light, but the light comes from around the remote transmitter, so I had to leave some exposed.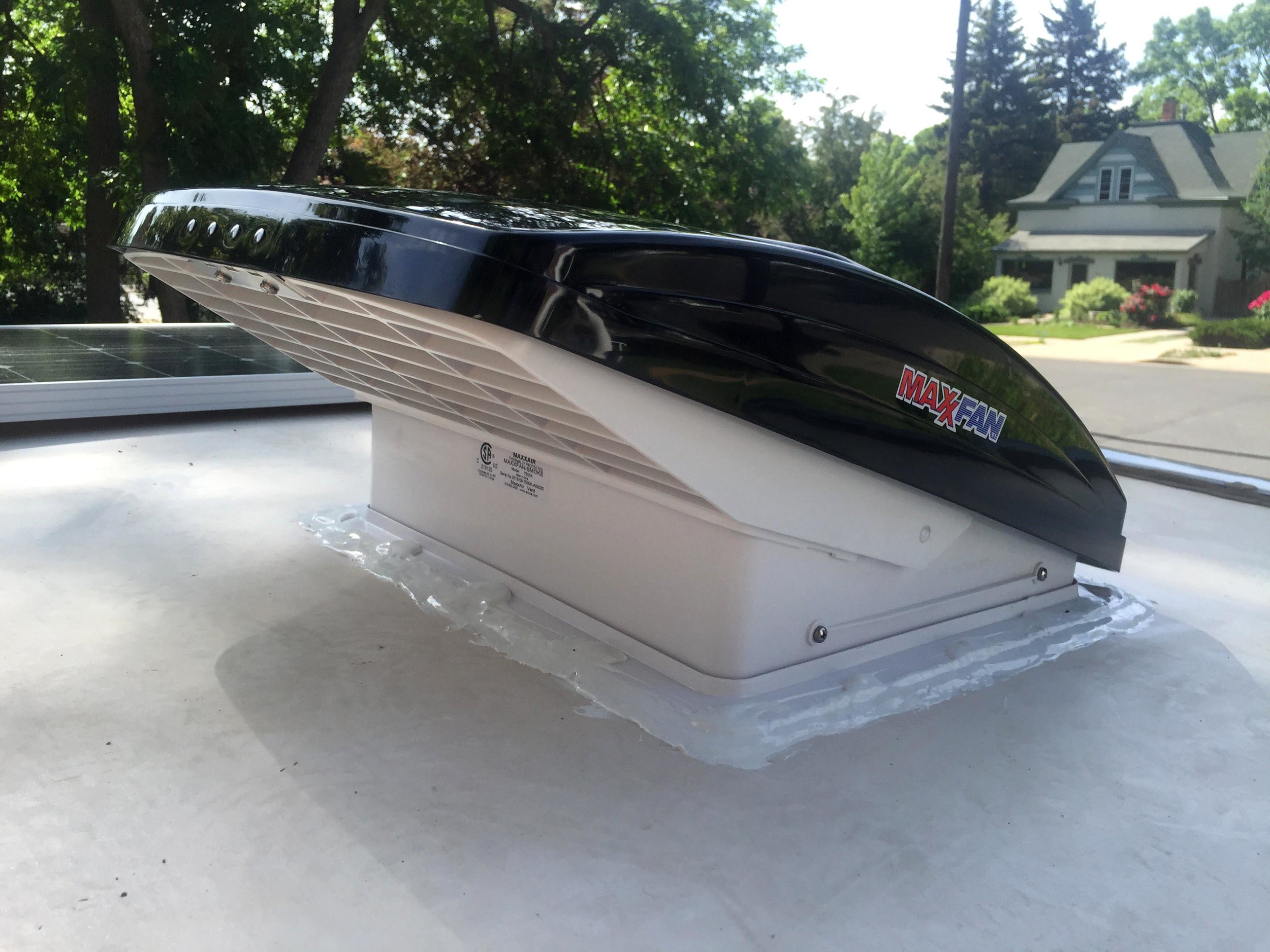 Vent insulation
These vent insulators have been a great cheap addition for the cold winter months. They slip into the vents snugly and keep the cold out, simple and effective.
Hitch Lock
Security when boondocking is a real concern, most of the hitch locks on the market are a joke and can easily be popped off with a bar or large screwdriver. I wanted something that was solid steel that would require a cutoff wheel or torch to get off, I settled on the Blaylock TL-33. This lock is as solid as they come, a determined thief can still take it off, but it would required them having the right tools. Pair it with this lock for maximum security against bolt cutters.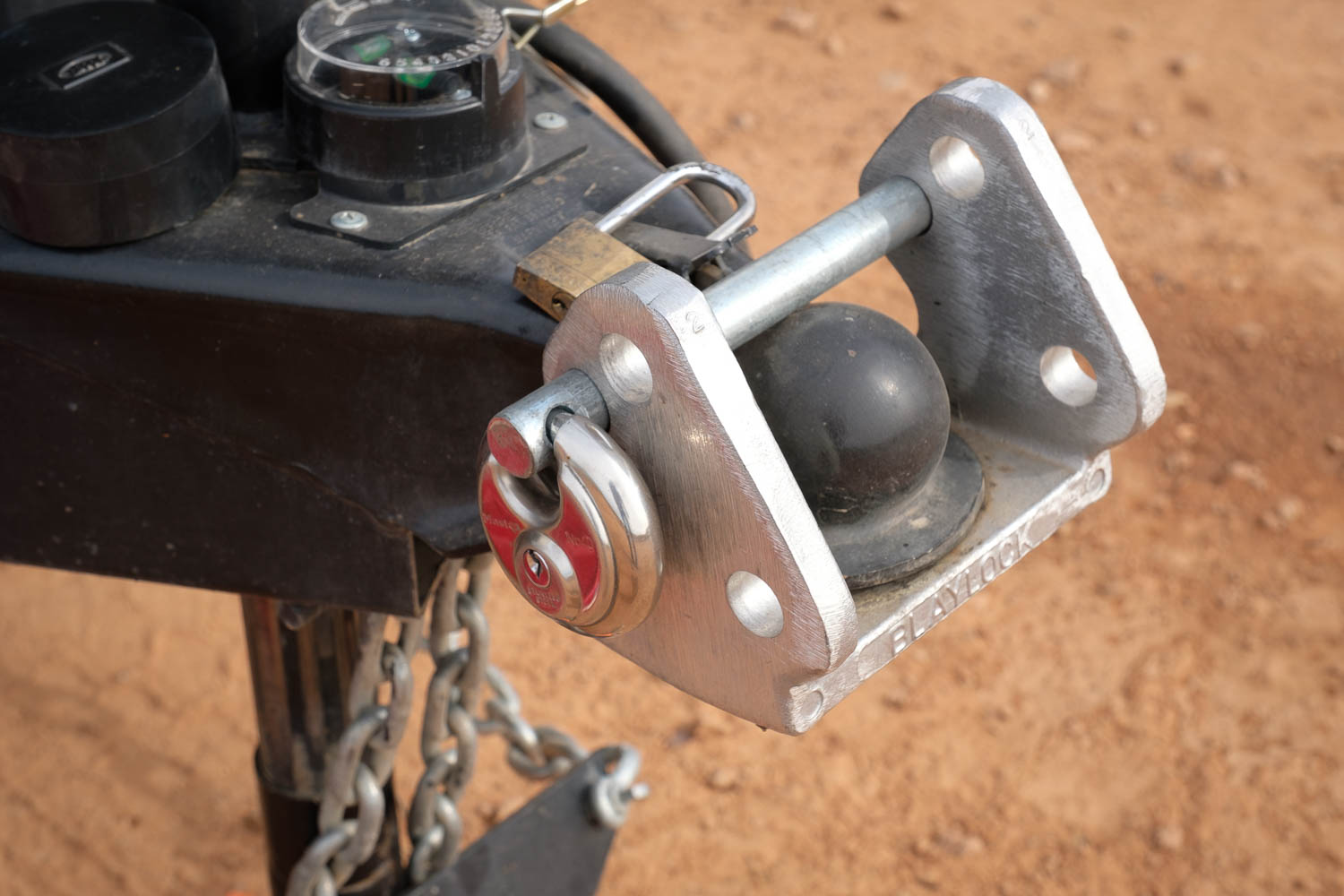 Chocks
The standard for trailer chocks seems to be the X-Chocks, but they are very expensive and can and do get stolen regularly. I have found these Camco alternatives to work very well, and the great thing is they are cheap, therefore they are less likely to get stolen, and I care less than if an X-Chock was stolen. They can also be found at most Walmarts if stolen.  Be sure to check the size, most rigs will need the large size.
Thermostat
The stock thermostat on the Nash is terrible; it caused huge swings in temperature from the time it would trigger to when it would shut off, plus it would only go down to 60 degrees, not low enough to save propane overnight. I found this Coleman thermostat which is a digital thermostat that goes as low as needed and keeps a stable temperature. We keep the temp at 53 degrees at night; this is where the Nash seems to stabilize and only gets colder than this under extreme temperatures, we stay toasty warm with our wool bedding and save tons of propane.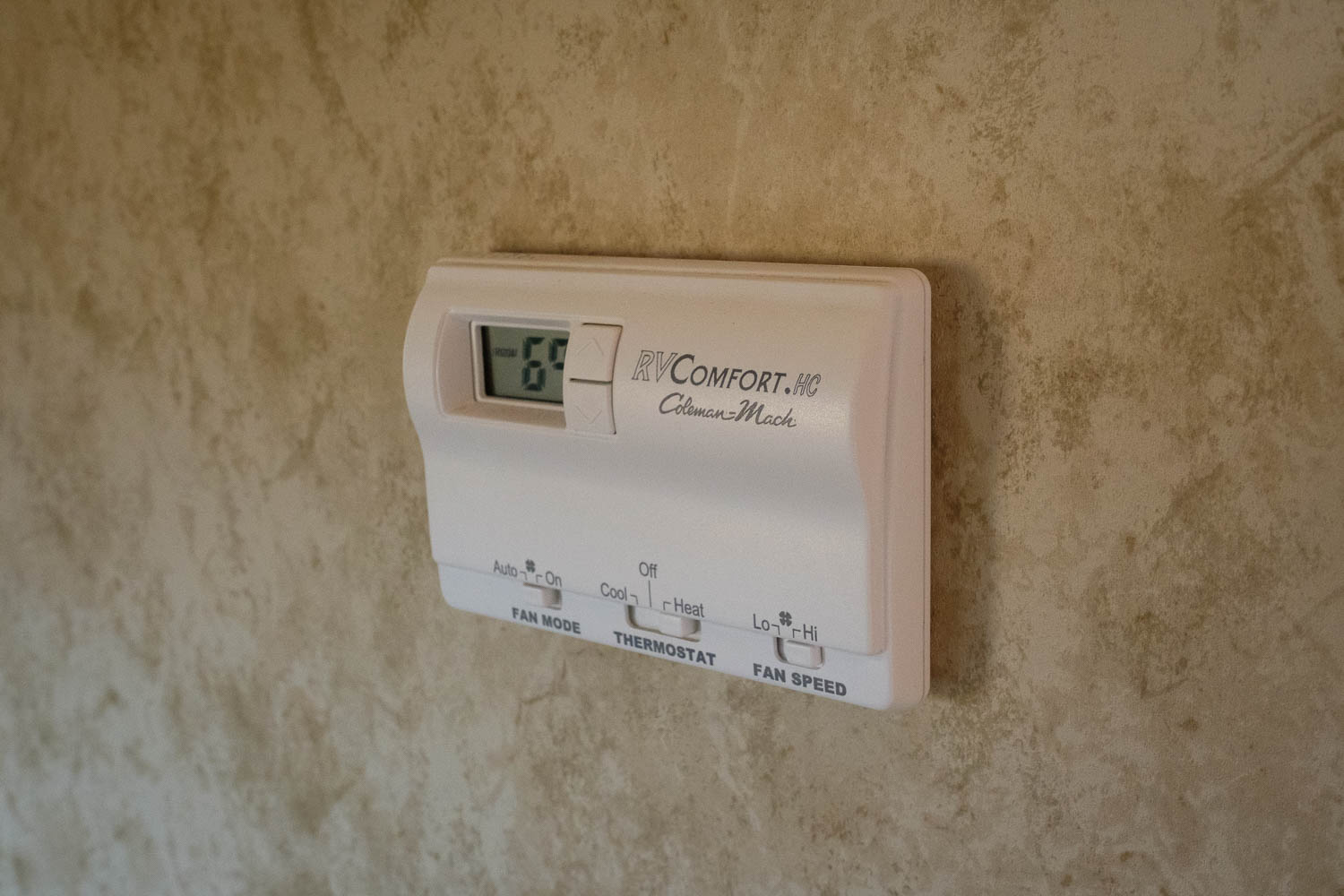 Range hood fan
I became frustrated with the stock fan after smoking out the trailer nearly every day, I went on the hunt for an upgrade and found the Fabulous Operating Products SAM-1-81 Range Hood Upgrade Kit. Which is extremely quiet compared to the stock unit, with more airflow. Plus the LED light is much brighter with power savings to boot. I still smoke out the trailer at times, and I do still wish it was better, but overall it works good and was worth the investment.
Smoke Detector
The smoke detector that came with the trailer was a joke for cooking, anytime a slight amount of smoke was created I was pulling the battery, it would go off for anything! I found a great replacement, the X-Sense CC03M (no longer available on Amazon) which takes much more smoke to set off, and when it is set off, you can just push the button to stop the screaming rather than pulling the battery.
Speaker upgrade
Let's be real, the stereo and speakers that come with RV's are awful. Rather than upgrading the entire system we instead picked up a small Bose battery powered speaker that we connect to our smartphones via Bluetooth. The sound quality is incredible for such a small speaker, it connects to our phones quickly, and the battery lasts a long time. We keep it on the kitchen table for listening to music and move it the bedroom when watching a movie on the iPad.
Equalizer Hitch
Before purchasing an equalizing/anti-sway hitch I did tons of research, I wanted something that was not cumbersome to use, lightweight, and had good ground clearance. I settled on the Anderson 3380 Weight Distribution Hitch which is a beautiful piece of equipment. The ground clearance is fantastic, just as good as the trailer. Hooking up and detaching is a breeze, once attached to the ball, lift the jack up high to loosen the chains, attach the chains with a pin, lower back down and you are done. I have never had the trailer sway, I can barely tell it's back there, this was a great investment.
Gps tracker
If anyone were to steal the trailer, I will know their every move. I have installed a TK103A GPS tracking device that works off a cellular connection, anytime I want to know where the trailer is, I give it a call and the location is texted back to me. You can even setup movement notifications if you are parked and want to be notified if the trailer is on the move, you will immediately get a text. This gives me piece of mind when parking in remote areas. The best part about it, only $30.
Sleep Number Bed
Thankfully, the Nash 17k has a full-size Queen bed, a rarity in most trailers which come with an RV Queen. The mattress that comes with the trailer is almost non-existent, an upgrade was desperately needed. I did my usual research and found the Sleep Number to be a great option. Because it is an airbed, it is very lightweight, and it is the most comfortable bed either of us have ever had. The bed is right above the inverter, so it was an easy hookup to power the bed. We do have to reset our sleep numbers after driving to new locations due to changes in elevation, and we have to be careful to keep the number low if we plan on driving over high mountain passes.
Storage Lock Upgrade
Did you know that nearly all locks on RV's are keyed the same? There is even a code printed on the lock to help thieves match up a key to the lock! If you have any valuables in your outside storage I would highly recommend changing the locks to something like this cylinder lock.
Cellular Antenna
I installed a Wilson antenna on the roof using a ground plane (aka a baking sheet that I glued to the roof) to plug in the hotspot or cell booster. I ran the wire down the fridge vent, which is just a big open space behind the fridge.
Lightweight Photographic Print
Shameless self promotion here, I have found the perfect solution for RV'ers that want to hang any of my photographs in their rig. This print medium is exceptionally lightweight and ready to hang on the wall, it is so light in fact that I have installed mine with the 3M removable strips that come with the 3M hooks, no damage to your walls! If you are interested have a look around my gallery at davidkingham.com and contact me for pricing.