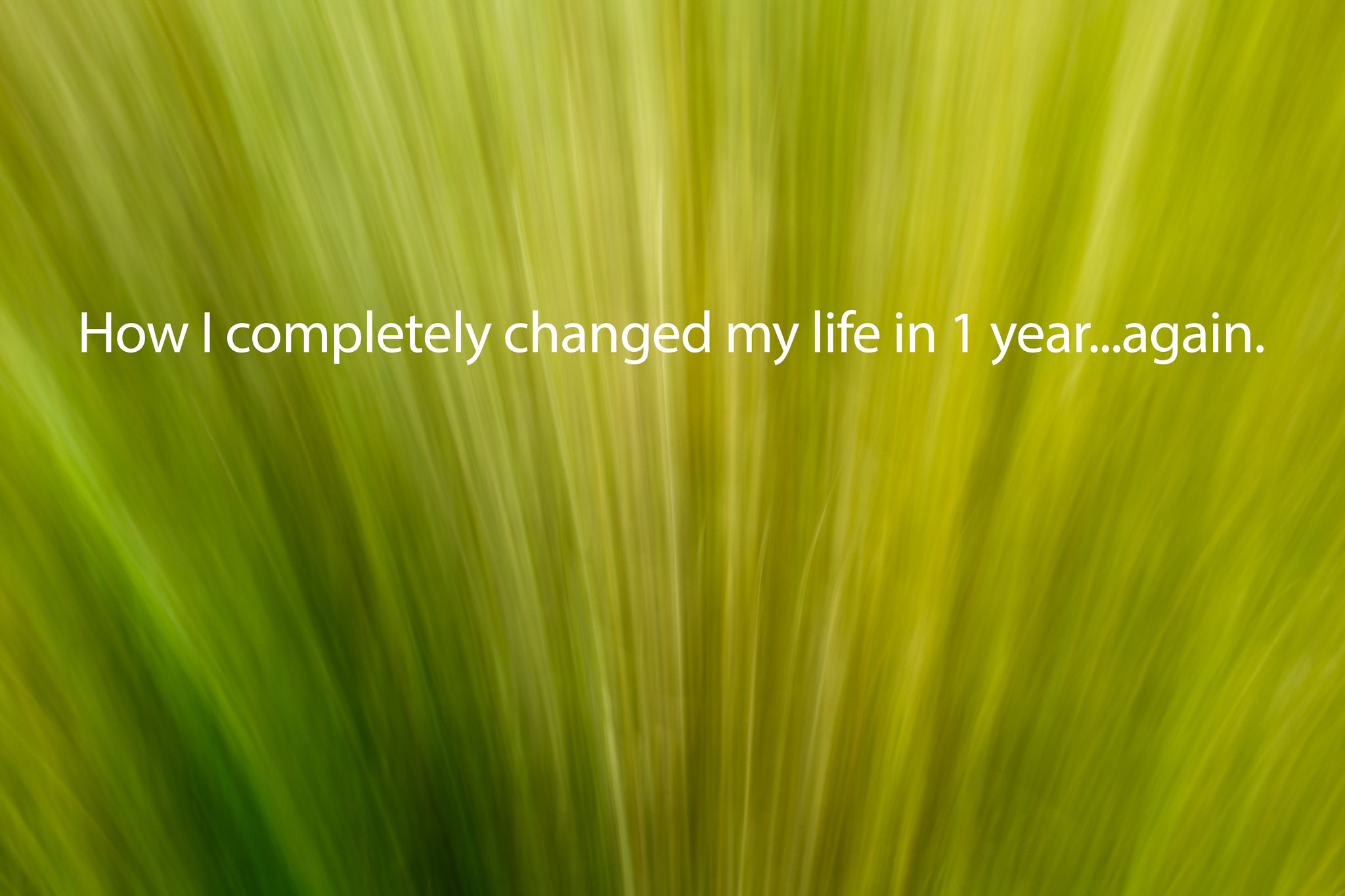 I cannot believe that I am writing this blog post again, for the 3rd year in a row. You can view this one of two ways; I am practicing Kaizen, which is the practice of continuous improvement. Or…I am completely unstable and you should not listen to a word I say, I will let you decide!
Looking back at my post from last year, I realize what a mess I was in that moment and it shocked me into a state of self discovery. I spent the month of January alone in a shack in BFE Montana with only my thoughts and time to write my eBook. I did not know what to do or where to go, I had established very few roots in Montana, but I was not sure if I was ready to go. I asked for a sign one night, the next morning there was an eviction notice in my mailbox. I couldn't deny that, I knew it was time to hit the road.
I spent the first 6 months living in a tent and traveling like a mad man all over the American West without a safe haven to return to. Since then I have been living out of a van, what we call a 'rubber tramper'. I'm now 11 months in and still enjoy it more than I thought I would. My goal was to do this for a year, now I cannot imagine stopping.
Sticking with tradition, here is a random mashup of what I have learned this year.
Overcoming a loss
This took more out of me than I imagined it would, 2 months after the breakup I was still a bigger mess than I realized and I let it spill into my professional life. I can admit my mistakes, and I made a big one. My first workshop of the year was in Death Valley and it went terribly due to my state, I was not being a good leader and I was incredibly disorganized. It was a huge wake call to get myself together and not let my personal life affect my work. I shifted my attitude and tried to make every workshop since then great. Each has improved and was capped off by a phenomenal trip in Colorado in which all but 1 of those clients have already signed up for tours next year!
Photography
In any creative pursuit we are constantly evolving, we try different things and fail over and over again. Through these failures we slowly learn who we really are as an artist. Last year I was enjoying shooting in black and white, but in retrospect I was trying to be something that I was not. I do still enjoy it, but not as much as shooting grand landscapes in color.
I have also become more motivated toward my landscape photography. Early in the year I rarely got up early for sunrise, part of this was intentional to ensure I got plenty of sleep to heal my adrenals, but a large part was pure laziness. In the latter half of the year I have put in the hard work and it has paid off in droves, the majority of my best images this year were taken in the past 5 months. It's still painful to drag myself out of bed, but I do it, and I never regret it.
Putting in my 10,000 hours
In the book Outliers, author Malcolm Gladwell says that it takes roughly ten thousand hours of practice to achieve mastery in a field. My goal is to be a master in my field, which I know will take many years of practice. This year I clicked the shutter over 20,000 times. Out of the 11 months on the road I have taken a photo 210 of those days, which sounds like a lot on the surface, but I did not spend nearly enough time on my post processing. I've spent lots of time studying and trying new techniques, but I'm desiring perfection before I edit my huge backlog. Of course perfection is impossible and I need to sit down and do the work, now.
Locations Visited
Starting this nomadic life has made me realize how much I enjoy traveling, prior to this I barely ventured outside of Colorado. This year I have been to 3 countries and 13 states in the US, all driving besides New Zealand. Below is a map of the more interesting locations I have been thus far. (I left out New Zealand to not totally skew the map)
I have learned to be alone and the joy of friends and family
Being on the road means tons of alone time. Time to think, ponder, and listen to your thoughts. When I go hiking I typically do not listen to music or podcasts, this is my time to meditate. At first the thoughts race, and bit by bit the thoughts become clear, and eventually they fade away. I put one foot in front of the other in a beautiful monotony and become fully present in the moment.
I have seen more friends and family this year than I ever did being in one spot. Since I have plenty of alone time to recharge my introvert batteries I actually seek out opportunities to meet new people and meet up old friends on the road. I missed our family reunion this year due to a workshop schedule conflict, but because of my travels I was able to see many of them along the way, and I hope to see more next year.
Traveling with a dog
For the first 7 months of my adventure I was traveling with my dog Emmie, she was a great companion and she loves hiking, but beyond that she and I were miserable. The biggest problem was heat, if the temperature approached anywhere near 70 it was too hot for her to stay in the car, plus I hated leaving her in there for long periods even if it was cool enough. Combine that with the National Parks not allowing dogs on any trails and it was a bummer all around. In September I decided it was time for her to have a new, happy home. My mom and stepdad were looking for a companion for their dog on their ranch in South Dakota, and I already knew that they were the best of buds anyways, it was the perfect home for her. She has now been with them for 3 months and could not be happier, she has room to roam and another dog to play with all day, every day. Yes, I miss her and the companionship, but I know she has a great family now and I have the freedom I need to focus on my photography, plus I will still get to see her on occasion!
Health
I continue to eat healthy, which is a much bigger, and expensive challenge on the road. I carry a kettlebell with me to work out, but not nearly as much as I need to. My hiking abilities have increased massively this year, thank you to Crystal Brindle for always pushing me out of my comfort zone (a.k.a. kicking my ass up the hill).
This year I came across some interesting books that others may find interesting. I started reading The Mood Cure which led me to Depression Free Naturally. I do not feel I was truly depressed as most people would think of it, it was more of a low level feeling of 'blah-ness'. This included brain fog and sluggishness, no real desire to do much of anything. These books attack this problem with the use of amino acids which occur naturally in our body, but our commonly thrown out of balance by a traumatic event, or simply from our high levels of stress we put ourselves under each and every day. I noticed an immediate improvement taking these supplements, I simply felt better and had a clear mind. Strangely it improved my digestion and other small things greatly as well!
I also got off the hydrocortisone that I was using to help my adrenal glands recover and have moved to aptogenetic herbs to relieve the anxiety that adrenal fatigue causes. Take a look at this article Restore Your Adrenals: How to Overcome Adrenal Fatigue
I am disappointed with the amount of backpacking I did this year, the trips were few and far between, but the few I did were incredible. I am committed to changing this next year and getting into the wilderness much more!
2015…
I have a lot of ideas of where to go and what to do in 2015, I only wish the summer was longer to see all the incredible locations in this country. I already have a flight booked for Iceland in March, I want to spend more time in the Pacific Northwest this summer, and I may be spending a month in Glacier NP in September. I also want to have more fun along the way, go to music festivals, learn to rock climb, canyoneering, etc. Time for more joy and adventure in life, it is too short to not live it to the fullest.
I do not see 2015 being dramatically different than 2014, but life continuously throws us surprises, it is how we adapt to these changes and challenges that define us. In this new year I challenge you to do the one thing that scares you the most. Share yours in the comments…